How can it be 12 years later and there is still no regulation on toxic beauty products?
Do me a favor the next time you wake up and get ready for your day. Count the number of personal care products you use; skin care, lotions, deodorant, makeup, eye cream, lipstick, shampoo, perfume, etc. Be honest about this. For many of us it can range from 10-20 items easily—and sometimes more.
We may not think about the ingredients that make up these potions and lotions, but we should.
When my late husband, Klink, had a reoccurrence of the environmental cancer non-Hodgkins lymphoma (cancer #2) in 2006, I began to question if we were somehow contributing to his illness by the choices we were making; specifically by what we were exposing ourselves to in regards to the personal care products (PCPs) we were using—shampoos, body lotions, toothpaste, nail polish, colognes and perfumes. And also the products we used to clean our house—floor cleaners, glass cleaners, detergents, etc. All of these were being absorbed either into our skin or into our lungs, and most of the time—both. Many of these ingredients were known carcinogens and proven to cause cancer.
That's when my journey down the rabbit hole really began.
I owned a beauty salon at the time (this was now circa 2008) and was shocked when I discovered that the beauty industry was unregulated; meaning no testing was required to prove a products safety. Any personal care product, not just those found in a salon. If a product was tested for safety it was done so by the same company that manufactured it, or basically, it was the fox guarding the hen house. I dove in deep and learned everything I could about chemicals in cosmetics, the carcinogens they produce, the health and hormonal issues they created. I was stunned to learn that the average woman applies over 125 chemicals to her body everyday, that there was formaldehyde in shampoo and nail polish, and the term "fragrance" —which is in 99% of the products we purchase—contains upwards of 400 chemicals; including phthalates, acetone, benzaldehyde, benzyl acetate, benzyl alcohol, camphor, ethanol, ethyl acetate and many other hormone disruptors.
We are exposed to chemicals and toxins en masse and fail to understand that they are bioaccumulating in our cells causing weight gain, early menopause, damage to the central nervous system, respiratory issues, immune system weakening, adult and childhood cancers, autoimmune disorders, asthma, allergies, infertility, miscarriages, and child behavior disorders including ADD.
What's most frustrating is that 12 years after this information became available to the public (thank you internet) absolutely nothing has changed in regards to policy. Even with Kourtney Kardashian bringing this issue mainstream in 2018, H.R.4296 – The Safe Cosmetics and Personal Care Products Act of 2019 failed to pass into a law once again. But here's the thing; it's only been 12 years since I personally became aware. The way we regulate PCPs in this country hasn't changed since the 1930's. That's 90 years!
How can we learn more? Where do we begin? What can we do?
Begin right here.
Watch this short 8 minute video called The Story of Cosmetics. It will explain everything you need to know about how this happened, why it happened, and what needs to change. 
Everything in this story, created in 2010,  is still relevant today. 
Then download the app.
Get The Healthy Living app from the EWG and take the guesswork out of knowing if a product, sunscreen, or food is safe.
Simply scan the barcode, type in the name, or browse by category. 
Rent this movie.
Rent the documentary Toxic Beauty on Amazon Prime Video for $3.99 (1.5 hours). 
Gather your children and grandchildren and share with everyone you know. It is the most comprehensive film to date of the crisis we are currently living in. Yes, I did say crisis.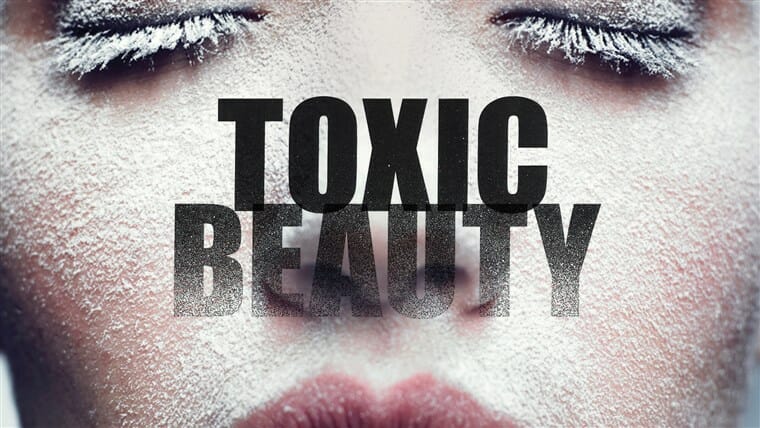 Keep up with a Kardashian.
Kourtney has partnered with the EWG and went to congress to get the Safe Cosmetics bill passed. Listen to Kourtney Kardashian on the Today Show talk about her mission to make cosmetics safer. (5 minutes)
Choose EWG Verified products.
With thousands of consumer products on the market, it can be overwhelming to know which ones are safer and healthier for your family. The EWG VERIFIED™ mark does the work for you. When you see the EWG VERIFIED™ mark on a product, you can be sure it's free from EWG's chemicals of concern and meets their strictest standards for your health.
Learn the secret behind the scent.
An ingredient safety expert at the EWG explains what the word fragrance really involves. A legal loophole from 1973 allows companies to hide a bunch of potentially dangerous chemicals in their products. Watch the 3 minute video to learn more.