That's a bold statement coming from a former "green" hair care manufacturer who is reviewing her prior competition.
(8 Minute Read)
Finding and loving green, toxin-free, eco-friendly hair care has been a mission of mine for over 10 years. My history as a stylist and salon owner made me incredibly picky about the performance I expected from my shampoo and related items, but being the wife of a three-time cancer hero changed how I looked at what was in the bottles I was using. When I first learned about the plethora of chemicals in the personal care products we use everyday, my husband Klink was well into his second cancer diagnosis (2006) and had been getting chemo steadily for over two years. His cancer was the environmental type—non Hodgkins lymphoma—and it made perfect sense because he had been exposed to Agent Orange in Vietnam and worked in an environment (tile setter/stone mason) where toxic chemicals were used on a daily basis. His body was overloaded with toxins that were a direct result of his surroundings.
It made me take notice of my own surroundings and my choices. 
Needless to say, my experiences with his cancers changed the trajectory of my life. I learned that staying healthy included making better choices with what I put on, and not just in my body, but the difficult part back then was finding clean, healthy personal care products that were effective. The green movement was in it's infancy which meant lack of shelf-life stability, separation of ingredients, refrigeration, and poor design. Much of it was just one big science experiment poured into a bottle in someone's kitchen and with a label from an ink-jet home printer slapped on the front. This was just for skin and body products because at this time clean and effective hair care was basically non-existent. So I did what any salon-owner-with-a-husband-battling-cancer-for-the-second-time would do. I started my own hair care company, AHNESTI. 
After losing Klink in 2016 I decided to close my company and focus on health and wellness in a different way, which is what this site is all about. I still own my formula recipes but large-scale manufacturing is a beast of a business and I was no longer up for the challenge.  
So now I find myself back to square one, in search of clean hair care. 
The bad news is that the beauty industry—specifically related to hair care products—is still, for the most part, formulating with toxins and chemicals that have no place on our bodies or in our environment. I was actually surprised after all these years that this perception from the industry and the consumer had not changed as much as I'd hoped it would. This always caused me a lot of angst when I ran my company and I was grateful to let it go. The good news, however, is that I found a few diamonds shining amongst the dirt. 
I've been experimenting with two brands and I'd like to share my reviews about the company and their products. 
One company is in my own backyard. 
 Yes, of course I was familiar with Intelligent Nutrients. I live in Minneapolis! You'd be hard pressed to find a stylist, salon owner, or well, anyone really, in this state who didn't know Horst and the history of Aveda  He's imbedded in our culture just like Prince. Horst was the rock star of organic beauty and all of us in the beauty industry stand on his shoulders. In fact, in a round-a-bout way, Horst inspired me to create AHNESTI and Intelligent Nutrients basically became my competition. I always appreciated their mission, focus and formulas, and I have to admit it's such a liberating feeling now to be able to speak freely about other products and companies I admire. 
After closing my company last fall, I received an email from Laura Mathews (IN International and Retail Account Manager) and Nicole Rechelbacher Thomas, the daughter of Horst and now co-owner of Intelligent Nutrients, inviting me in for a visit. We spent the afternoon talking about our visions of the industry (her current and my former), sustainability of the green beauty movement, efficacy of formulas, company transparency, passions about business and wellness, the industry as a whole, and we found that our lives paralleled each other in many areas. It was refreshing to hear Nicole's story first-hand and not through the media or other people's perceptions of who she was. I couldn't imagine the pressures and complications her life has brought her but in all honesty, you'd never know it. She is gracious, passionate, and kind, and above all else—authentic. 
The other company has been around for several decades. 
AG Hair
 is based out of Vancouver, Canada and is still a family-owned business. Different than IN in it's offerings, AG Hair is more of a traditional line but has started leaning in the "green" direction adding a few items to it's line-up. Of course, not having the pleasure to meat the founder, I can only base my opinion about the company's transparency from what they provide on their website. It's a familiar story. John and Lotte Davis saw an opportunity for better quality hair products within the salon industry and so began formulating their own, using only the best ingredients in abundant proportions. 
Now—you just have to trust me on this. 
My standards are high and if you've seen what I'm about on my site here, you'll know that health and wellness are my top priorities. I've been in the beauty industry for over 20 years (stylist, salon owner and green hair care manufacturer) and have immersed myself in organic and toxin-free living for over a decade. I consider myself an expert on knowing which ingredients are highly toxic, which are best to avoid if possible but can still be tolerated, and which are out-right clean and safe. And I not only have the resources to research them, but I am also a self-proclaimed closet chemist. Basically saying—I love this stuff. With that said, I will not be going through the ingredient listings on any of the products and picking out bad, good, or otherwise, nor will I be singing their praises on how green they are. Rather, I am reviewing them based on the performance and efficacy. Because really, they can be as green as the grass in the middle of a Minnesota June day but if they don't work, they don't get shelf space in my home.
Plus, I wouldn't be using them if they weren't clean. Period. 
I based my review on my own hair type but will provide my opinions on what hair types it would work best for. 
INTELLIGENT NUTRIENTS REVIEW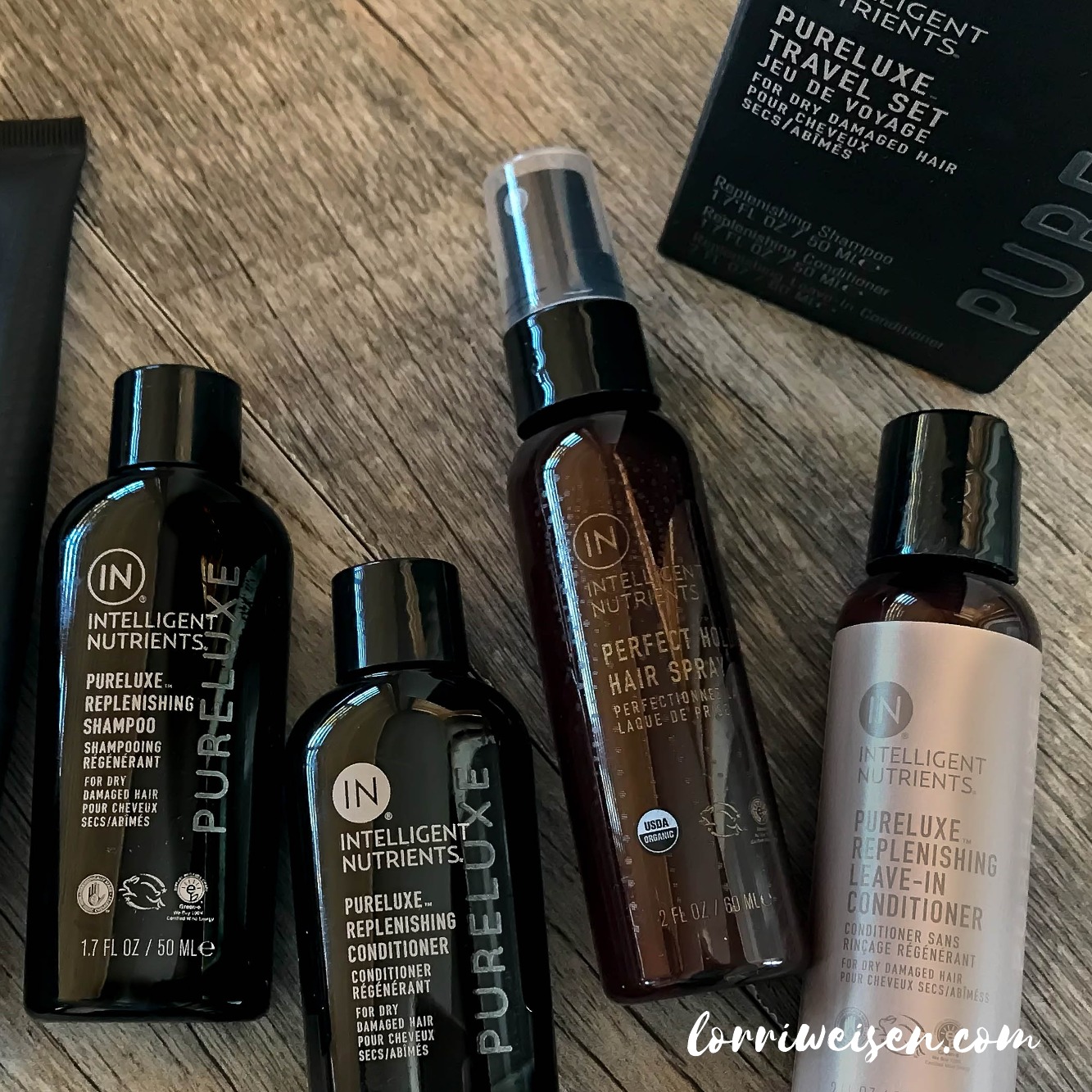 Sulphate free typically means "no lather" but that's not the case here. I like a rich, creamy, lather and most sulphate free shampoo's on the market just don't provide this. My theory is that you can't create a sulphate free shampoo and then load it up with chemicals. It obviously doesn't work. This shampoo (and I will assume the rest of their line) combines natural surfactants with natural ingredients and the result is a luxurious sensory experience.
A light, gender-neutral, citrus and floral scent from essential oils won't overpower your senses. 
This shampoo provided the perfect amount of moisture and left my hair feeling clean with no residual build-up. I could use it without a conditioner for a few days with great results. With that said, I can't provide you with combability results because my hair is only 2 inches long! 
Highly concentrated so a little bit goes a long way. 
You could easily use this as a body wash and shaving aid as well, making it multi-functional and great for traveling.
If you liked the AHNESTI Integriti Shampoo  I think you'd like this.  The scent is quite different but the results are similar. It's also color protecting. 
For hair types that need extra moisture; normal to coarse, textured, deprived/distressed, processed or colored/highlighted. This will work on fine textured hair if thick and colored, but will be too heavy for fine and thin hair types. 
This is an emollient-rich conditioner packed with some nutrient-dense, certified organic oils; coconut, Kukui seed, jojoba, and seed butters; shea, Murumuru and Cupuacu. My hair felt really nourished and had an incredible shine. 
A light, gender-neutral, citrus and floral scent from essential oils won't overpower your senses. 
Multi-purposeful as well as it can be used as a weekly treatment.
If you liked the AHNESTI Integriti Conditioner  I think you'd like this. The scent is quite different but the results are similar. 
I used this in my hair both wet and dry. In wet hair it provided a soft medium hold and added a lot of body. When adding it in after my hair was dry, it increased the hold factor.
If you liked the AUTHORITI Whipped Paste  you may not care for this. It's a dryer feel and doesn't seem to have the flexible hold the whipped paste had. However, if you are looking for some decent hold, body and really nice volume in fine to normal hair – you've got a winner here. It does give a bit of a "dirty" texture, which is good, and I think this would work fantastic for women who want lift at the root area (especially on fine, thin hair types) or men looking for a hold you can still run your fingers through. Also, can be reworked the next day with water and not get sticky. 
I think this could work well for scrunching in wet hair for a beachy look if mixed with a little water first. 
My hair is strong-minded and I need a bit more heaviness to get my look. If you felt the AUTHORITI Whipped Paste was too heavy for you, you'd really love this. 
This definitely gets a nod of approval because it's USDA Certified Organic HAIRSPRAY people! Need I say more? 
It does go on a little wet at first and seems a little sticky, BUT it does dry nicely and seems to have a great hold. I think this could work for lot's of hair-types, you may just need to play around a bit to find how it works best for you. 
The pump/sprayer WILL clog but that's pretty much the nature of the beast when going au' natural. Just rinse under hot water before spraying and you're good to go. 
The scent is fresh and I like that I can still touch my hair after applying. I experimented with cocktailing the spray with the paste for more hold and liked the results it gave me—more texture and separation.
They also have 2 other sprays to choose from, one for dry/damaged hair and one for curls. 
Hairspray is made from alcohol and plastics and is so incredibly bad for you—especially the aerosol variety. As natural hairsprays go, I'd definitely check this out.
The standards for this company are incredibly high and I don't think you'll find any other brand on the market that has the ingredient integrity that they do. Their formulas perform and their accolades are numerous. Take a spin around their website and get to know them a little bit.  Their formulas are vast and you will probably find what you need for your hair type. And they have beautiful skin care too! 
Great news is that they sell direct to consumer and have travel sizes! 
If you were an AHNESTI Puriti Shampoo lover I'd try out their Harmonics Invigorating Shampoo and Conditioner and see what you think!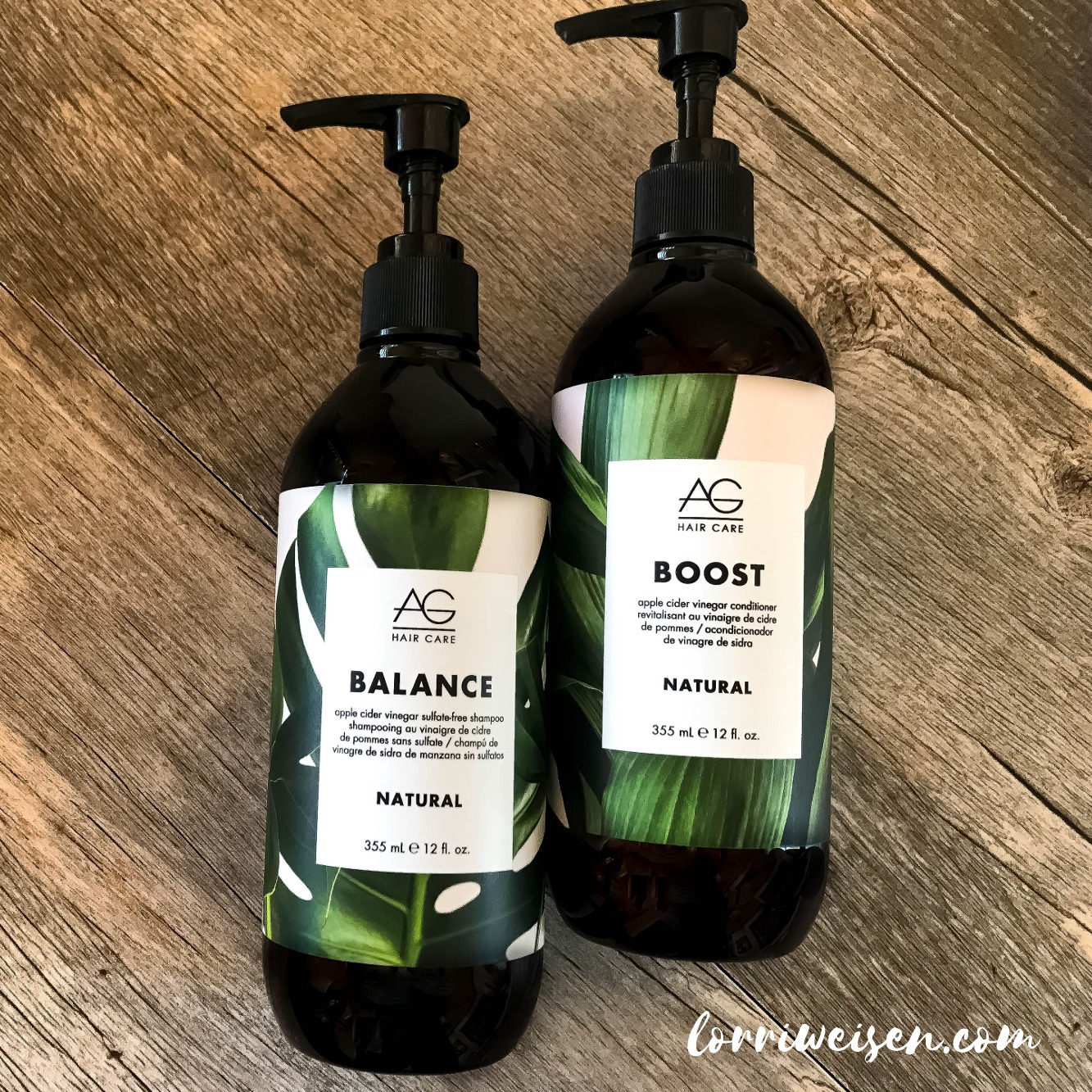 Balance is a new formula created by AG Hair and is 98% naturally derived. 
I started using this shampoo several months ago and have had great results so far. There is only one type so I will say it's more for normal hair that needs a little extra moisture. Having said that, I always use conditioner so if your hair is fine you could probably use this with no trouble as long as you don't condition. Apple Cider Vinegar balances the pH of the hair and seals in moisture which would also help with detangling. 
The gender-neutral scent is light and fresh with a lemongrass undertone which I really like. 
This shampoo is sulphate free and has a rich, creamy lather that won't disappoint. 
Weightless formula doesn't weight the hair down or leave any unwanted residue. 
Concentrated formula and color safe.
Boost is a new formula created by AG Hair and is 98% naturally derived. 
This conditioner packed full of coconut oil, mango seed butter, rosehip oil, and shea butter seems to give my hair the nourishment it needs but doesn't leave it heavy. 
Apple Cider Vinegar balances the pH of the hair and seals in moisture. This would also help with detangling. 
Same beautiful, gender-neutral scent as the shampoo but with a hint more vanilla. 
Concentrated formula and color safe.
Very much like the IN Texture Paste above but even a more drier feel.
This didn't work well on my hair, but again, I need more weight and texture for my look. 
I think this would work fantastically on very fine and thinning hair to create lift and volume at the root and it does provide a pretty strong hold. 
I think this could work well for scrunching in wet hair for a beachy look if mixed with a little water first. 
I think AG Hair- Naturals is a great addition to their formula line up and I love to see traditional brands extending their offering. They also have Remedy Hair Mist which would act like a detangled and color protector as well as a Rosehip Hair Dry Lotion for thermal protection. While you can't get this directly from the AG Hair website, they do have a store locator where you can punch in your zip code to find it in your area. I located it on Nordstrom.com and Ulta.com as well. 
It's all about personal preference at this point. 
Intelligent Nutrient's focus is larger than hair care, with environmental stewardship and agricultural sustainability a high priority. This company has a strong and clear vision and is breaking down barriers in the beauty industry. I for one applaud that because this industry needs to be tipped on it's head and shaken hard so we can see  pockets turned inside out and their contents exposed. In other words — true transparency.
In matters of performance, you really can't go wrong with either of these brands. I will continue to research and do reviews as healthier hair care becomes available to me so sign up for my monthly newsletter and stay in touch!
Breathe Deep and Live Well,
Living a toxin-free and green lifestyle is a major component to Living Well. We are highly vulnerable  to chemicals in our beauty, hair and personal care products, and indoor/outdoor environments. This can have a decidedly negative affect on our bodies including cancers, respiratory, hormonal, and skin conditions. The good news is that we have more control over the unwanted affects than we think. While we can't escape every toxin out there we can certainly support our bodies and our health by choosing chemical-free whenever possible. This is one way to start Living Well!