When Was The Last Time You Took A Detox Bath?
Having a detox bath—by naturally flushing out the toxins from our bodies—is an important part of Living Well and keeping the chaos out of our lives; aka illness and disease. Our bodies are amazing and can handle quite a lot of abuse, but over time toxins and heavy metals build up in our fatty tissue and cells and can cause many types of issues, including arthritis, fibromyalgia, psoriasis, eczema, and environmental Cancers such as non Hodgkins lymphoma. A detox bath can help you stay proactive with your health and wellness and possibly prevent diseases from knocking on your door.
Everybody can benefit from creating a detox bath habit.
We need to provide an outlet—or means of escape—for the chemicals and heavy metals that we've been unknowingly accumulating since before we were born and regular detoxing is a great way to do this. And while it's great to do this maybe once or twice a year, you're going to get the maximum benefit from creating a monthly habit.
According to the EWG (Environmental Working Group – a watchdog foundation) the average woman applies over 168 chemicals to her body every single day with the personal care products she chooses and non-organic strawberries have a high pesticide residue on them clocking in at a lofty 99%. If you're like me and have a pretty clean lifestyle—by choosing organic whole foods, grass-fed proteins, green beauty products and less processed/artificial foods and toxic personal care products—you'd think we'd have a pretty low toxic burden. Not true. Toxins accumulate via exposure to plastics, second-hand smoke, solvents, paints, hair coloring, hairspray, air pollution, CAFO's, pesticides, insecticides, medications, fertilizers, cleaning supplies, and unfiltered water. We are ingesting these toxins as well as bathing in them and breathing them in.
Waaaay back in 2005:
"In a
study spearheaded by the Environmental Working Group
(EWG) in collaboration with Commonweal, researchers at two major laboratories found an average of 200 industrial chemicals and pollutants in umbilical cord blood from 10 babies born in August and September of 2004 in U.S. hospitals. Tests revealed a total of 287 chemicals in the group. The umbilical cord blood of these 10 children, collected by Red Cross after the cord was cut, harbored pesticides, consumer product ingredients, and wastes from burning coal, gasoline, and garbage."
Now, that may all sound a bit scary but as I mentioned above, our bodies can withstand quite a bit of abuse—as long as we are taking care of it in return. Of course detoxing supports the elimination of these chemicals but if we are repeatedly adding more exposure and not adapting healthier consumption habits, well, eventually it will be too much for our bodies to bear and the pendulum will shift out of our favor.
Scheduling time for a monthly detox bath is a great way to support our bodies, be proactive about our health and boost our immune system. As an added bonus, we get some well deserved self-care time to ourselves.
I have been using this detox recipe for over 20 years and swear by it's results. It's very powerful! You will feel a bit tired and incredibly calm—maybe a slight headache—after the bath so be cautious if you've got big plans later. This is the detox working and you should spend the remainder of the day nurturing yourself and taking it easy. And please drink LOTS of water before and after as you will be eliminating a lot of toxins. As with any detoxing protocol, please check with your doctor first. 
*Make sure you read the bottom of the post as I've provided a BONUS TIP!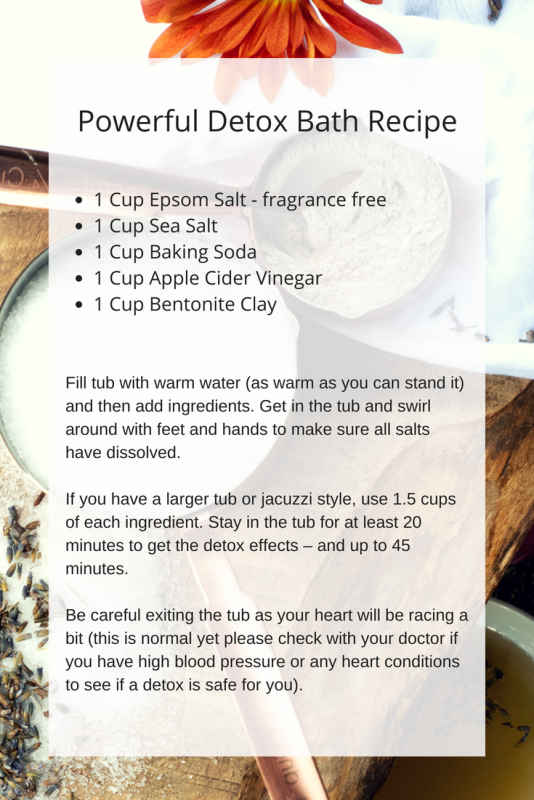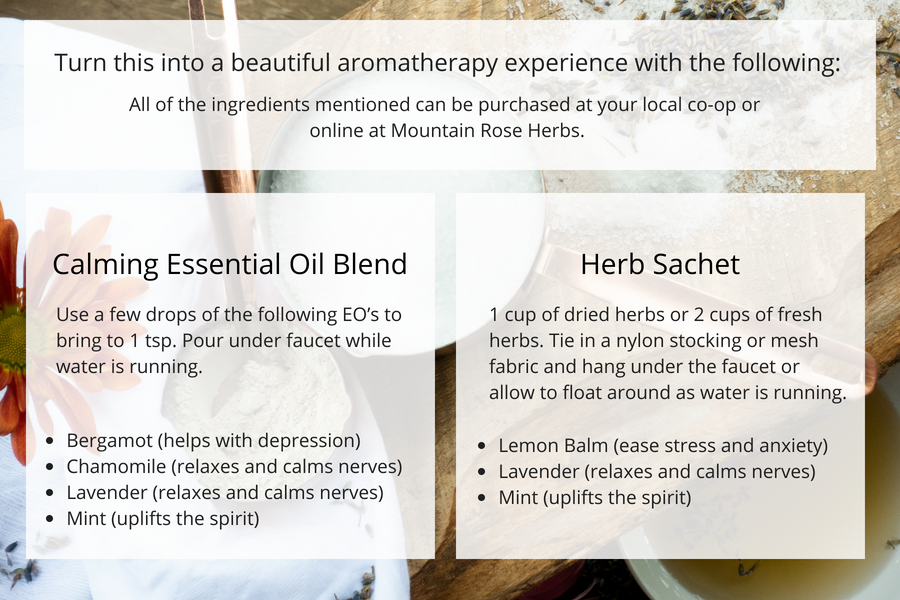 **BONUS**
Instead of adding the Bentonite clay directly to the tub, cover yourself in mud! That's right! This feels absolutely fantastic and I highly recommend!
Mix equal parts clay and water in a non-metal dish and silicone spatula and stir well to form a "mud". Apply the clay to the body (and face!) while standing in the tub and then lower yourself in and relax. This helps the clay absorb into the skin better creating higher benefits.
By the time your bath is over there shouldn't be much left on your body. Simply rub off excess, exit the tub and towel dry. It's best not to rinse off or apply any lotion (except on your face) after the detox bath as the minerals will continue to stay active for several hours.
And don't forget to clean your tub! Or better yet…get someone else to do it while you take a nap 😉
Why this works:
Epsom Salt: Magnesium Sulphate helps to maintain normal muscle and nerve function, keeps the heart rhythm steady, and is important for bone health. It's a mineral that most of us are deficient in and can best be absorbed into the body transdermally. It's also been reported to reducing muscle soreness—an important factor for exercise recovery—and to promote better sleep.
Apple Cider Vinegar: Soaking in ACV works to nourish our largest organ, the skin. An anti fungal and antibacterial, ACV can help eliminate body and foot odors and keep the ph level of the skin neutral and healthy. It also helps alleviate minor joint pain (the detox effect).
Bentonite Clay: In its natural state, bentonite clay has negatively charged molecules. Most toxins and heavy metals have positively charged molecules and so this allows the two to bind together and stay united while the toxin removal process gets underway. https://draxe.com/10-bentonite-clay-benefits-uses/
Baking Soda: Sodium Bicarbonate helps in the relief of itching and irritated skin and also promotes detoxification.
Sea Salt: Lowers pain in inflamed muscles, stimulates circulation, hydrates the skin, increases moisture retention, promotes cellular regeneration, detoxifies the skin, and helps heal dry, scaling, irritated skin.

Have any great detox tips? Leave them in the comments below!